Peru, known as the Inca Empire with its famous ruins, the long partly rugged coastal regions and dune landscapes, super delicious famous fish dishes like ceviche, and the mighty mysterious mountains of the Andes, the longest mountain range on earth. It's all too understandable who has Peru high on their bucket list. Here is what you need to know about traveling to Peru.
The thought of rainbow-like mountain slopes or the mystical and legendary city of Machu Picchu makes you long for faraway places? I will try to take you on an eventful journey between the wonders of nature and a country of political corruption and social division.
1. What are some of the most iconic landmarks or places to photograph in Peru?
1.1 Most popular
Machu Picchu: Whoever first thinks of Peru immediately has one of the wonders of the modern world in mind: Machu Picchu. In the process, we learned that the ruined city, rediscovered in 1911 and completely overgrown at the time, was actually nameless and named only after the highest mountain of the nearby Inca city: Machu Picchu. It is interesting to note that the mountain is not even the one that is always seen lying behind the city in the pictures, but is in the back facing the ruined city. The city, built in the 15th century, impresses with highly intelligent architecture, steeply hanging terraces and several temple complexes. Anyone who sets out on the Inca Trail, which takes several days, knows what an incredible feat it must have been to build these cities at 2430 meters. For photographers, I recommend purchasing the first tickets online early from the opening of the entrance gates. Also, the first bus that takes you up from Aguas Calientes in 20 minutes is not always reliable. So take your legs in your own hands and walk up the trail so that you are definitely on time for sunrise. On the spot there are strict guidelines for the direction of the trail and many chaperones. Please stick to them. For photos I recommend a rather wide-angle lens to get the landscape around the ruined city on your photo. Your photos will be even more impressive if you book a guide, who will tell you a lot of interesting things about the city. From my point of view, exceptionally not a tourist trap, but an absolute must!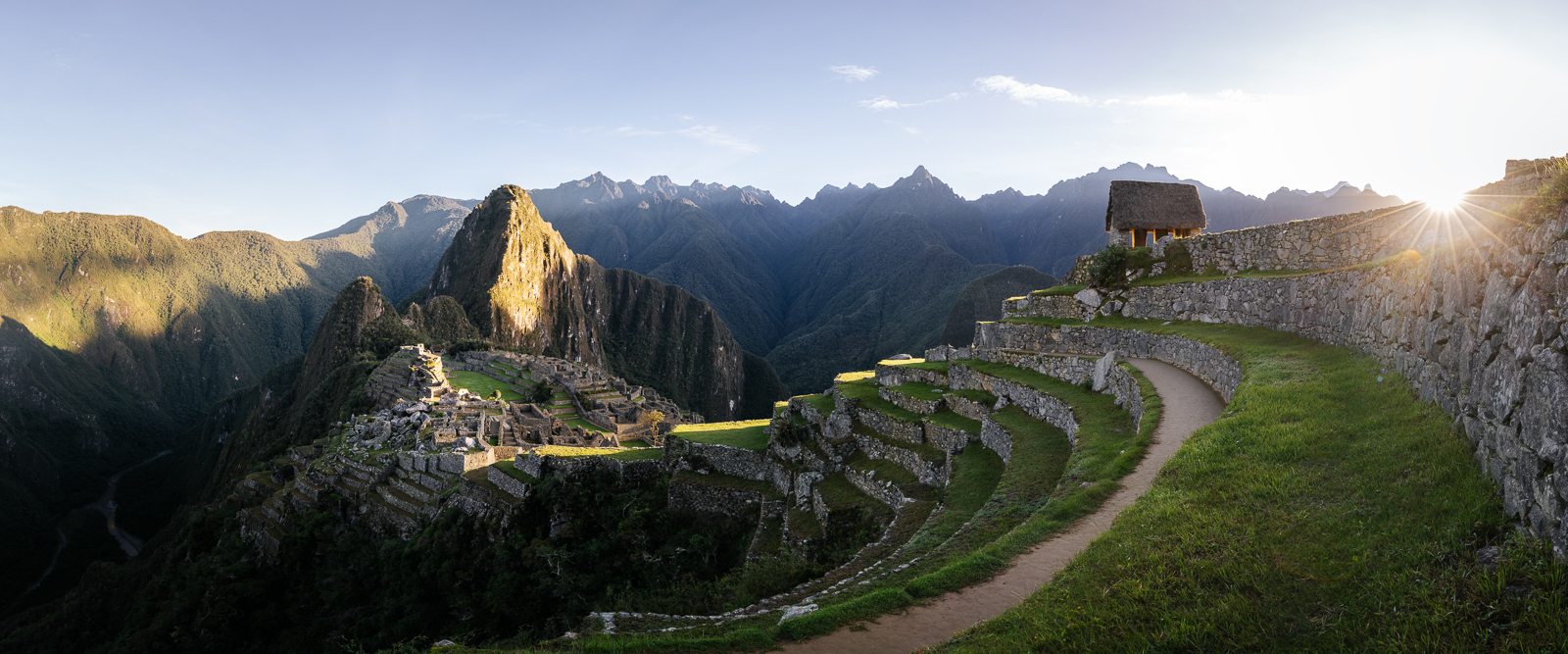 Machu Picchu, lower western terraces view
Rainbow Mountain: At a remarkable height of 5200 meters lies the mountain Vinicunca, also known as Rainbow Mountain. In recent years, this natural wonder has become a veritable photo magnet. The various colored sediments that line the left and right sides of the Ridge are slightly different depending on the weather and the time of year. For photography, I definitely recommend you arrive at sunrise. This way you avoid the many tour operators who arrive at the viewpoint late in the morning and affect your picture mood. Also, the weather changes very often here and with a little luck you'll get some amazing light shows in the morning. So pack enough rain protection for your camera equipment. It is also advisable to not just focus on one mountain, but to explore the area and find other beautiful motifs away from tourism.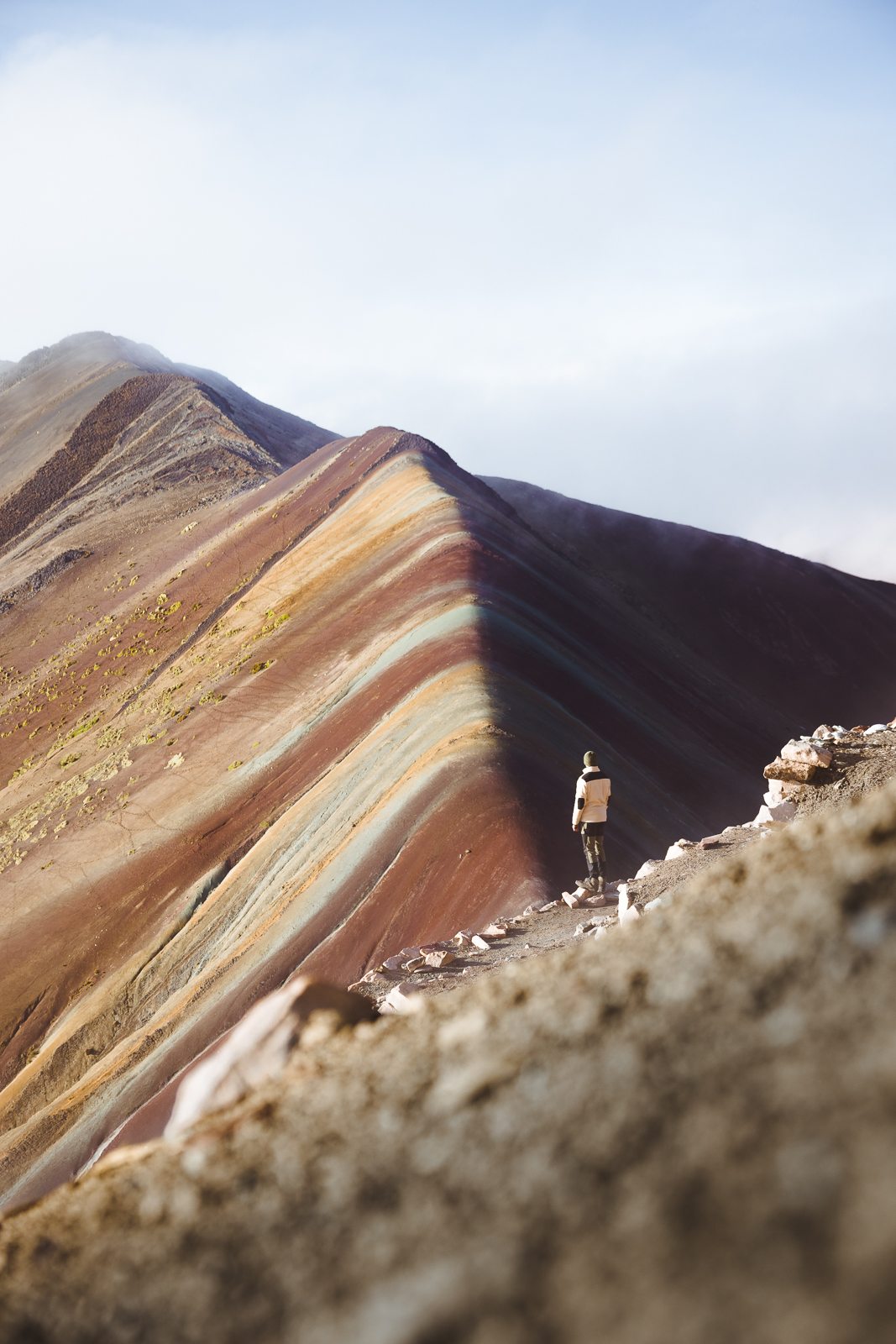 Cusco City: The former capital of the Inca is today the ideal starting point for all tours in the Andes, to the world-famous ruined cities, the salt terraces of Mara and much more. Cusco is a thoroughly modern city with many historically well-preserved buildings, landmarks and great cuisine. Above all, you should explore the artists' district of San Blas. The many small winding streets offer numerous motifs between architecture, handicrafts and local hustle and bustle. If you don't know a local photographer or are connected to someone on social media who can show you around, I would join a general free-walking tour to get an overall impression of the city. Later, you can go back and photograph the places you particularly liked at your leisure. Every photographer is sure to find new motifs!
1.2 Hidden Gems
Palccoyo Rainbow Mountain: The much less known rainbow mountain Palccoyo on 4900 meters in height is characterized by more intensive color structures. In the immediate vicinity, there is not only one mountain with this colorfulness, but several! Only a few tour operators offer trips to this mountain. Why? Because everyone wants to see the "famous" spot. Classic tourism trap. It is also advisable to join forces with several photographers and organize a private driver if there is a possibility. This is often done through hotels or AirBnB's. After a few phone calls you can always find someone. There is also the possibility of a rental car to travel more individually. Ultimately, the main differences are the altitude, the walking time with just 45 minutes from the parking lot and the degree of difficulty, which is rated by me as very low. For photographers, I recommend being there already at noon to determine personal spots and highlights, which can then be photographed in good light at a later hour. Here it is not just a matter of a lens, but your versatile exploitation of various lenses and perspective options.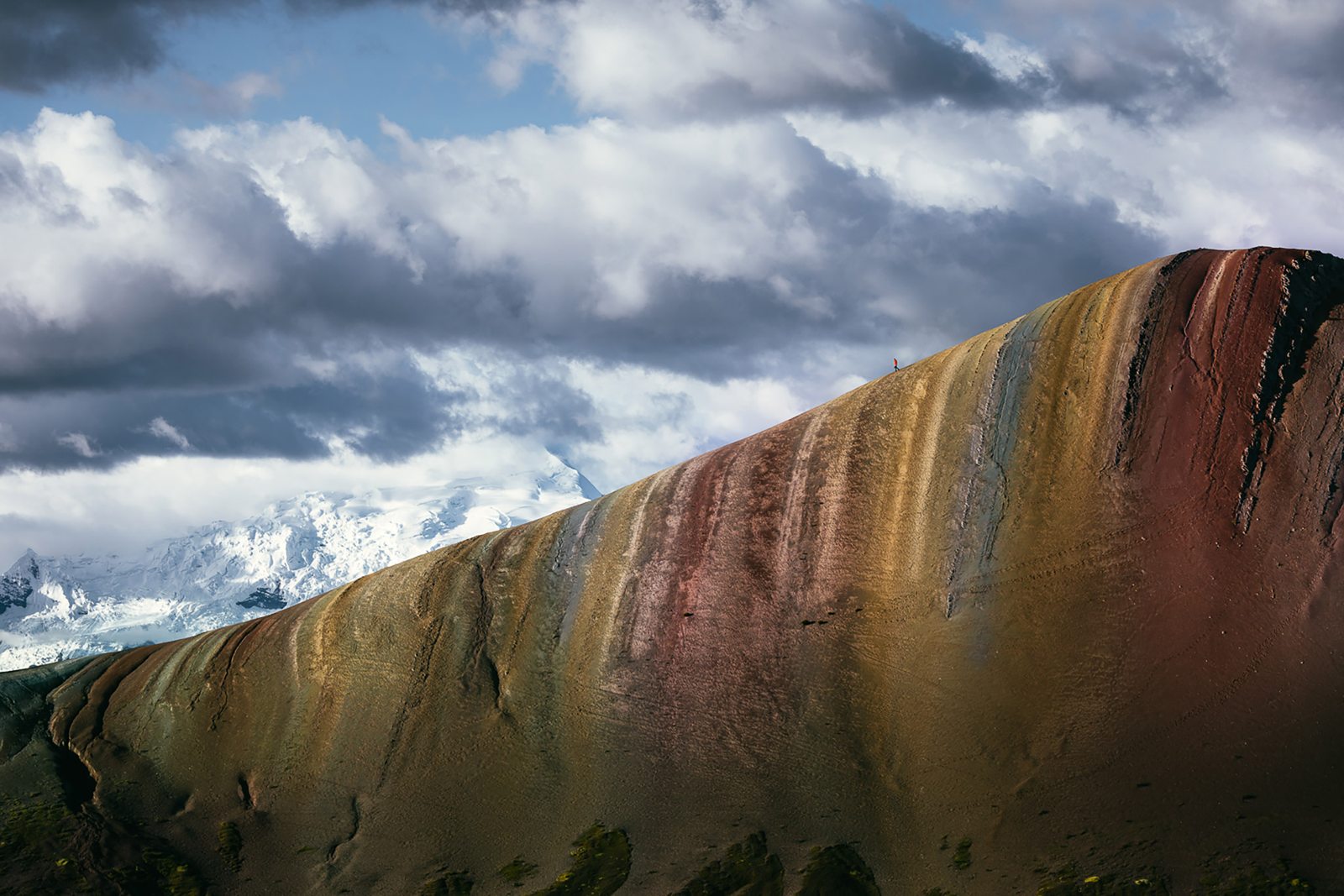 Cordillera del Arcoiris Palccoyo
Hike from Raqaypata Ruin Towns to Inti Punku Sun Gate: This approximately 28km wide trail with 1400 meters of elevation gain will take you along large waterfalls, virtually unknown Inca ruin towns, along indigenous small mountain huts with their locals, across two mountain passes to Inti Punku Sun Gate, which was once used by the Inca as a spiritual, ritual place to communicate with the goddess Pachamama (the Earth Mother). At sunrise and sunset, the snow-covered Mount Veronica glows picturesquely. It is recommended to book the tour with a provider such as Killaexpeditions to definitely hike the right path. The tour is offered individually and in small groups. Photographically, I would always keep a medium focal length like a 24-70mm f2.8 with me to be able to document as versatile as possible during the hike.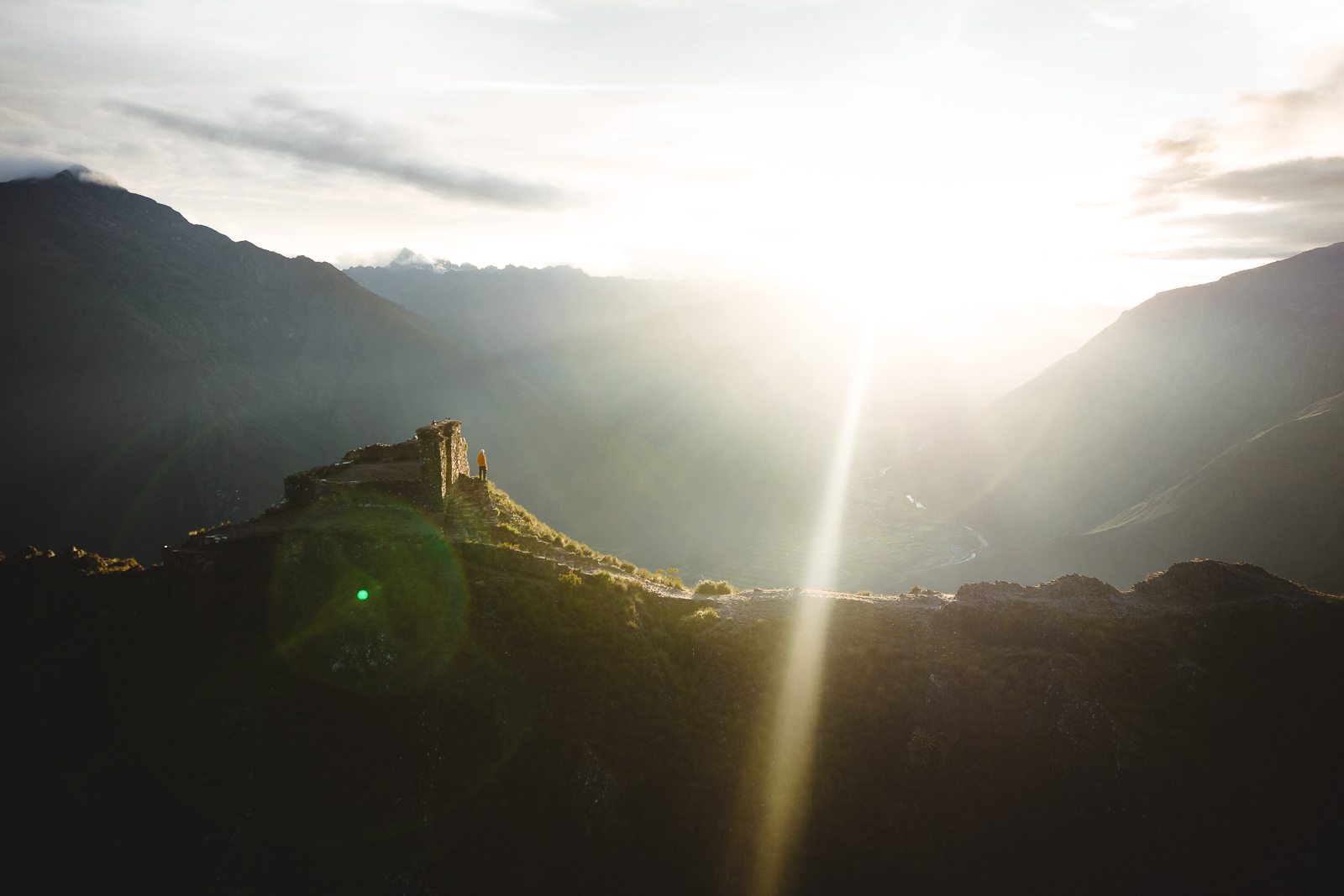 Inti Punku Sun Gate, Cusco Region
The local hustle and bustle away from the tourist market in Cusco: Many visit the San Pedro Market in Cusco, which is absolutely convincing with its versatility. But if you want to see the true face of Cusco, you should visit the market a bit further and only known by locals Mercado Cascaparo Chico! Authentic, hectic, traditional! Tip: If you want to take portraits, you should ask nicely shortly beforehand and if necessary also carry 1-2 Peruvian sol with you.
2. Preparation
2.1 What are some of the best times of year to visit Peru for photography? And what's the weather like?
Peru can basically be visited all year round. As a photographer, it depends above all on what you want to photograph specifically. Therefore, depending on your needs, there are different periods and seasons. To be distinguished are the areas of the western coastline, the highlands / Andes and the Amazon rainforest.
For the coastal region and Lima, the summer months of December to April are advantageous, since during this time there is a pleasantly warm climate with an average of 26 degrees. Overall, the section consisting much of the desert tends to be dry throughout the year, but from May to October is cooler and sometimes cloudy.
For most people, the highlands, the Andean region and the ruined cities are the most interesting. It is important to distinguish between the rainy and dry seasons. The rainy season is usually between November and March, where it is often dry in the morning, the wind comes up at noon and then it rains. The dry season (Peruvian winter) goes from April to October with much clearer weather. It is important to know that the nights are milder in the rainy season than in the dry season. So for photographers, it comes down to what kind of images are preferred. If you want a weather guarantee and blue sky and lots of sunlight, you should definitely prefer the dry season. Disadvantage them the colder nights, the often no longer so green rather dry nature, less colored sediments and more tourists. Personally, I prefer the "autumn season" known in Germany, in Peru this is the month of March. A disadvantage is certainly the unstable weather, which can throw a spanner in the works of your trip, brings less sunlight and obliges you to be spontaneous. Also, some passes can be closed. On the other hand, a play of fog and clouds often adds more dynamism to the pictures, nature is more colorful and you encounter fewer tourists.
I did not visit the Amazon rainforest because our main focus was on the mountain regions. However, locals told us that the forest lives up to the name and there would be plenty of rainfall throughout the year. But the best chance of dry weather is probably between April and October.
2.2 How to prepare for a high-altitude visit?
For northern Peru, Huaraz in the Ancash region is the hub for tours into the mountains. In southern Peru, this is Cusco. Huaraz is already at 3052 meters, Cusco even at 3399 meters. So both cities are already at an untypical altitude for many visitors, surpassing many mountain peaks in Europe. As is well known, one runs the risk of getting altitude sickness from an altitude of 2500 meters. With increasing altitude, the air pressure decreases, so that less oxygen reaches the lungs and our blood has a lower oxygen content. As a result, metabolism is reduced. The result is dizziness, headaches, nausea or even fever and shortness of breath. It is important to give the body time to go through decent acclimatization. Thus, after getting used to the altitude, it produces more hemoglobin and regulates the metabolism again. Basically, you should allow about two to three days in the cities. It is beneficial to drink plenty of water and to consume sweet/salty products (e.g. sweets, cola) to balance the electrolyte balance. A healthy diet contributes to faster digestion. Fats and proteins consume more oxygen during processing. In addition, legal coca tea can displace hunger and fatigue, and additionally promotes oxygen intake. Alcohol should definitely be avoided, as it deprives the body of water. Also, you can use smaller hikes in the surrounding region to overcome a few meters of altitude without much effort or much luggage.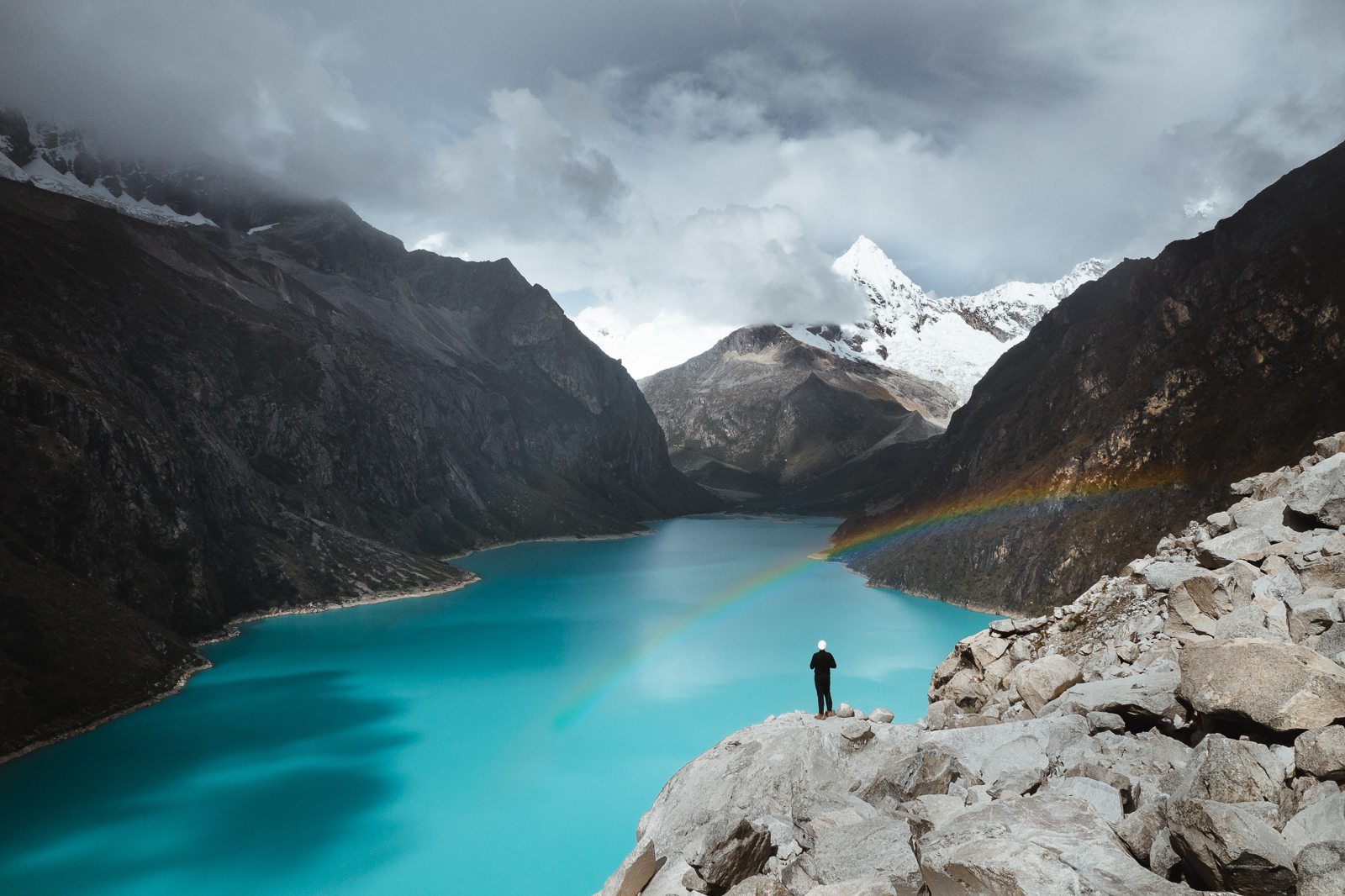 2.3 Drugs (to solve issues with high altitudes f.e.)
Locally, you can buy so-called Sorojchi pills at any pharmacy, which can be another option. These act with their chemical components like aspirin and caffeine, thinning the blood and thus transporting oxygen faster. The pills can be taken every eight hours. One should pay attention to the maximum duration. Ask the pharmacist about this. Basically, however, the pills are just another option in addition to the natural support options for acclimatization already described above. At extreme altitudes, however, it is always advisable not to stay too long and to force the descent after a reasonable time. It is also advisable to camp at a lower altitude for the night.
2.4 Budget and Finances (how expensive is dinner etc. + how to pay + currency)
In Peru, payment is made in Peruvian sol. One sol is equivalent to about 0.25 European cents. In Lima, the larger cities like Huaraz, Cusco, Arequipa or tourist places, cashless payment is mostly possible. But already here there are differences to be considered. For example, many souvenir or artistic stores, small mini-markets (supermarkets, kiosk), the general regional markets or street vendors can be paid almost exclusively with cash. As soon as you travel outside the city, this is even more true. Contrary to many other countries, it is therefore advisable to check before leaving a city whether you still have enough cash with you and how long you will be staying outside a city. It is also important to exchange larger bills of 50 soles or more for smaller bills, as there is often little change available in small towns.
Generally, the budget for a trip to Peru depends on your individual needs.
Transportation costs: The most expensive are certainly the flights. We paid about 1000 euros with a stopover in Madrid. Bus rides to the north cost about 10-20 euros depending on the provider. A cab (official and unofficial options) is often very cheap. For a distance of 15-20 minutes, you pay about 2-4 euros. A rental car costs about 70 Euros per day. It is more expensive with private drivers. But if you are not always dependent on the rental car or do not dare to drive partly badly built roads and paths, this is recommended, because tour providers often do not drive at sunrise and sunset. For example, we have paid here for the approximately 3-4 hour route Cusco - Ausangate with an overnight stay at the mountains and return the following day 100 euros. Airfare from Lima to Cusco varies constantly, but is often available for under 100 Euros.
Accommodation: Here the range is the largest. Between luxury accommodations starting at 1000 euros a night, there are also inexpensive, comfortable AirBnB. Here we paid on average per night a total of 35-50 euros. In the mountains, the nights are of course free of charge, except for the fees charged in some cases by locals ;-).
Food: Here, too, there is an extraordinary range. Very posh restaurants call out the rather average price in Germany of about 15-20 euros per person. If you visit local but well-rated recommended restaurants you pay about 5-10 Euro including drinks per person. At local markets or street food stalls, on the other hand, you pay only a few cents but also risk a corresponding lack of hygiene standards. The cost of self-catering in the mountains is below average compared to other European countries.
Tours: If you book tours in larger groups through vendors on the open road, the prices are quite reasonable and range between 20-30 euros per day. Often, however, hidden surcharges are added, which annoy you or you do not get the desired length of stay at the spots. Therefore, I would only book through reputable providers such as VisitSouthamerica, Killaexpeditions, AB Expeditions and some others. These promise at least exclusivity, respond to the wishes of customers and have various options / offers. Here a price can amount fast also times a few hundred euros. In some areas, the hikes are also possible absolutely without a tour and guide. Therefore, I would often organize a private driver through third parties such as the hotel or AirBnB hosts.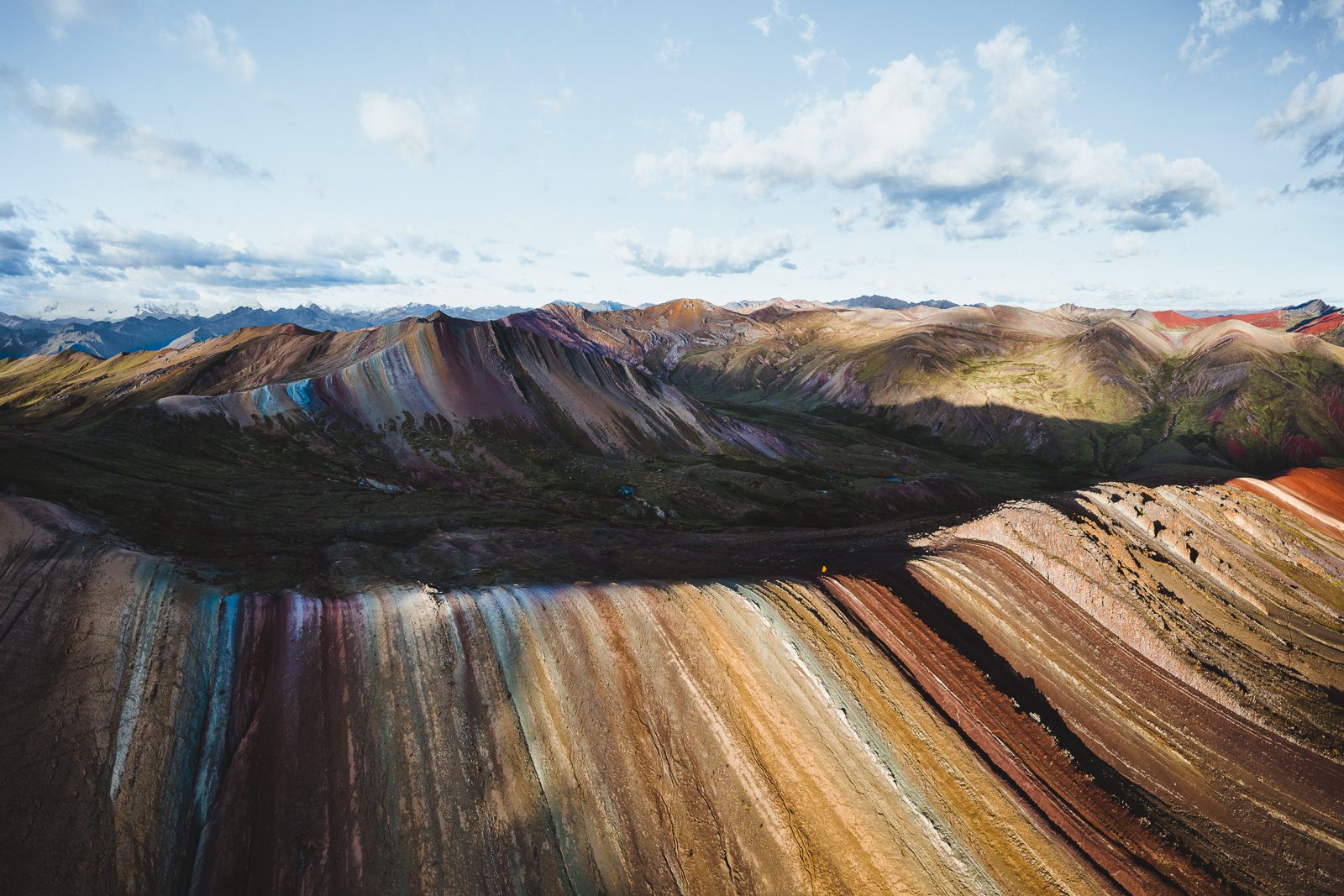 3. Photography Equipment
3.1 Camera-Gear recommendations
Basically, every photographer or person interested in images must question what kind of photography he pursues and what intentions one brings.
My lens selection for the Canon R5 in Peru according to the purposes was the following:
RF 24-70mm f2.8, main lens during the hikes. Covers a good medium dynamic range in focal length, shows imagery at the most ordinary level for people, can be used spontaneously optimal for product placements.
EF 16-35mm f4 with RF adapter, rarely used. Was mainly used on lagoons and lakes, where behind lay an extremely large mountain wall / massif that went up to not cut off the mountains or to be able to cover the entire landscape. Also lent itself well to making the scale look more massive with a person in the foreground, or to create width and depth in reflections in the lake.
RF 100-500mm f4.5-7.1, my secret favorite. Used in almost every spot. The wide focal length creates completely new possibilities in the mountains and previously unseen subjects. Also, more minimalistic detail shots of the Rainbow Mountains or distant high mountain peaks were super possible. In addition, this is a winner when it comes to wildlife.
Addendum: DJI Mavic 2 Pro, gives one good option for panoramic photos, elevated perspectives with people in scale as well as cinematic video shots.
Before any hike, think carefully about what you want to get out of the spot and how long the trip will last. For example, if you are going on a one-day trip, you might as well use your photo backpack, pack it with enough water and food, and take all your equipment with you. If you are going on a trekking tour lasting several days, you should set priorities. I have, for example, often the wide-angle, always on the tripod and if necessary one of the three batteries for the drone without. There, too, it depends on what filling weight your trekking backpack brings and what functional otherwise products you carry with you depending on the pack size and weight.
By the way, an agreement with your companion can be absolutely worth its weight in gold. If you use the same manufacturer, it is anyway easy to exchange lenses quickly among themselves, if you trust each other and can divide the carrying of lenses. If different manufacturers are used, you can agree on different focusing. If one photographer brings his wide angle, the other person can act as a scale to complement the composition. On the other hand, the other photographer has the option of taking the product photos with his 24-70mm. Ultimately, it always depends on you individually, which arrangements you make and that you have once agreed on everything about image rights and uses.
If you are traveling in the cities, I recommend taking a small compact camera with you. The advantage is the handiness and inconspicuousness. Especially for portraits, it can be quite scary for locals if you carry a larger camera with you. For example, we had the Fujifilm X100V with us.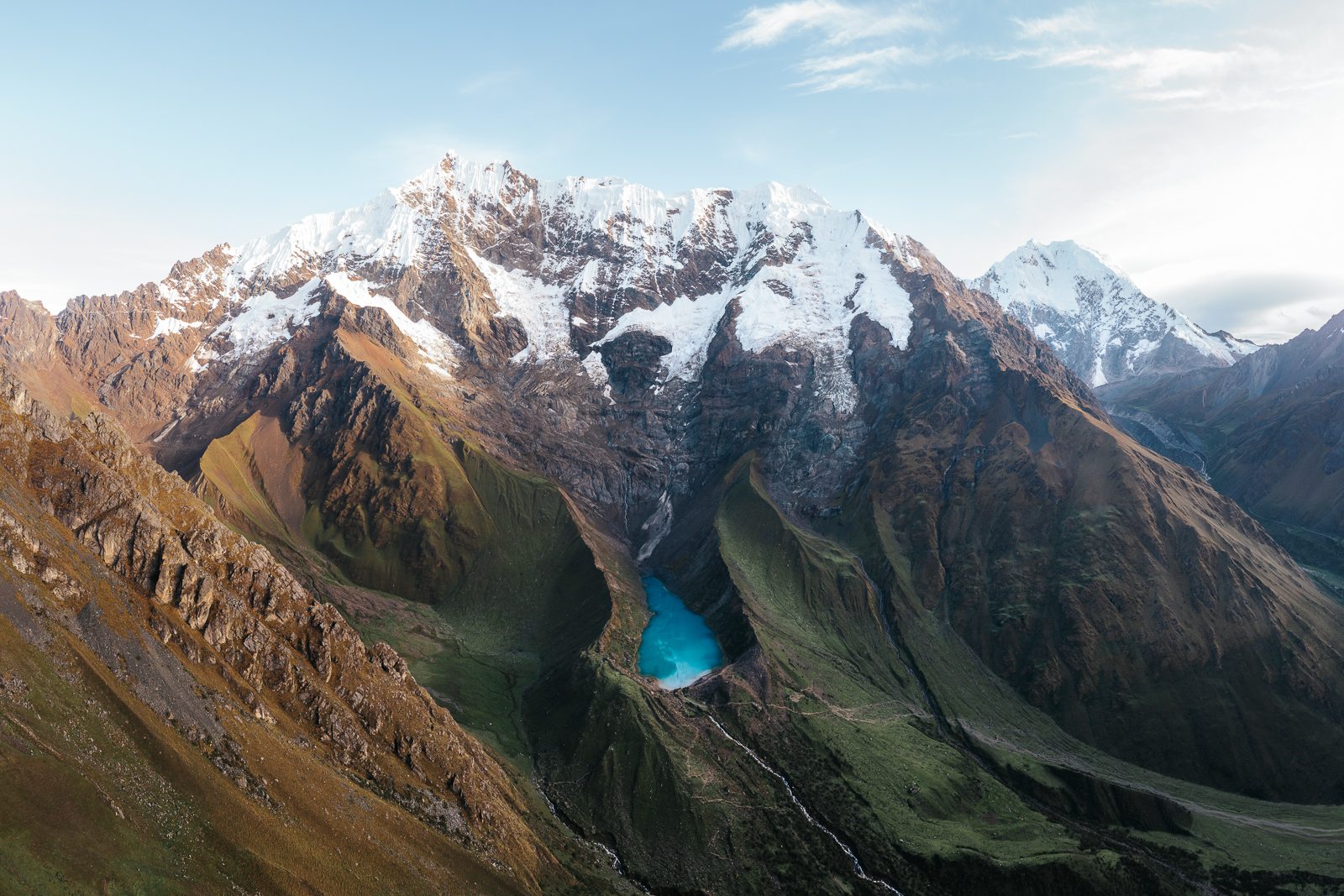 3.2 Drone regulations
Like everywhere else in the world, a drone is a special topic in itself. In general, regardless of the country, it is recommended to have a valid driver's license for self-protection as well as liability insurance to be covered against possible damages.
In Peru, it was previously only allowed to bring a drone into the country with a permit. Meanwhile, the government has refrained from this and it is relatively easy to use the drone without such a permit. We ourselves traveled with several locals and photographers. With tour providers, you can clarify in advance whether the use of drones is okay. We have made the experience that if actively approached, this is tolerated or allowed. Sometimes there are locals on-site at the lakes or mountains in a control function. Here you can often go into an exchange and fly under control for a fee. Certainly, this is also a gray area and you should listen to your gut feeling - keyword corruption. Because whether the people had the authorization to do so, even the guides or our companions did not know. Officially it is forbidden at Machu Picchu and other holy cities, which is why we did not even take our flying devices here and strictly advise against it. You should also inform yourself about the animal and bird life near the Amazon and avoid a flight during the breeding season.
4. Important to know
4.1 How to get around safely in Peru?
In principle, one must be aware in Peru that the current political situation and extreme corruption lead to tensions between the government, parliament and society. In December 2022, the division led to ongoing protests, demonstrations and violent confrontations with a large number of fatalities, the most in several years. As a result, there have been road closures, blockades, arson attacks on police checkpoints as well as government buildings, or the closure of tourist sites such as the Inca-ruined city of Machu Picchu. News agencies regularly report on the political situation, demonstrations and local conditions. It is also advisable to take a look at the page of the Foreign Office with current news, but above all to get in touch with Peruvians. Among others, this works well via social media channels, which can often provide more informed insight into what is happening on the ground.
We found the general transportation of short-haul flights and especially bus lines to be comfortable, structured and orderly. Here, tickets are personalized, luggage is checked, and IDs are inspected. The same applies to the train toward Machu Picchu.
It was noticeable that we hardly saw any tourists with rental cars. Peruvians generally show a great interest in helping. We connected with other photographers on Instagram before our trip and were thus able to travel partly together with locals, their cars or via then-arranged contacts. We also found the private drivers through our AirBnB hosts to always be reliable and friendly. Often hosts also know people in other cities or towns and can establish contacts. We also use cabs during the day, which was not a problem. Sometimes the drivers try to take a longer route to get more money, which was easy to get around with your own navigation, for example via Google Maps. Regardless of the ride, a price should always be negotiated beforehand. It is also possible to book tours through the above-mentioned providers, which seemed reputable to us. In general, we felt it was safe overall despite the political situation.
Definitely avoid walking off the main roads in the cities at night or carrying flashy, obvious valuables.
If you are on hikes or trekking tours lasting several days, you should always keep an eye on the weather and its changes. Make yourself a check-up list and go through this specific to your tour each time anew. It is recommended to pack according to the onion principle and to be equipped for any weather conditions. In addition, you should always carry enough water and food. In addition, a small emergency kit with medicines and bandages, a flashlight or headlamp, a multitool with a knife and an emergency whistle is appropriate. The latter is now often processed on the top loop of the backpack. For tours lasting several days, it is advisable to have a water filter with you.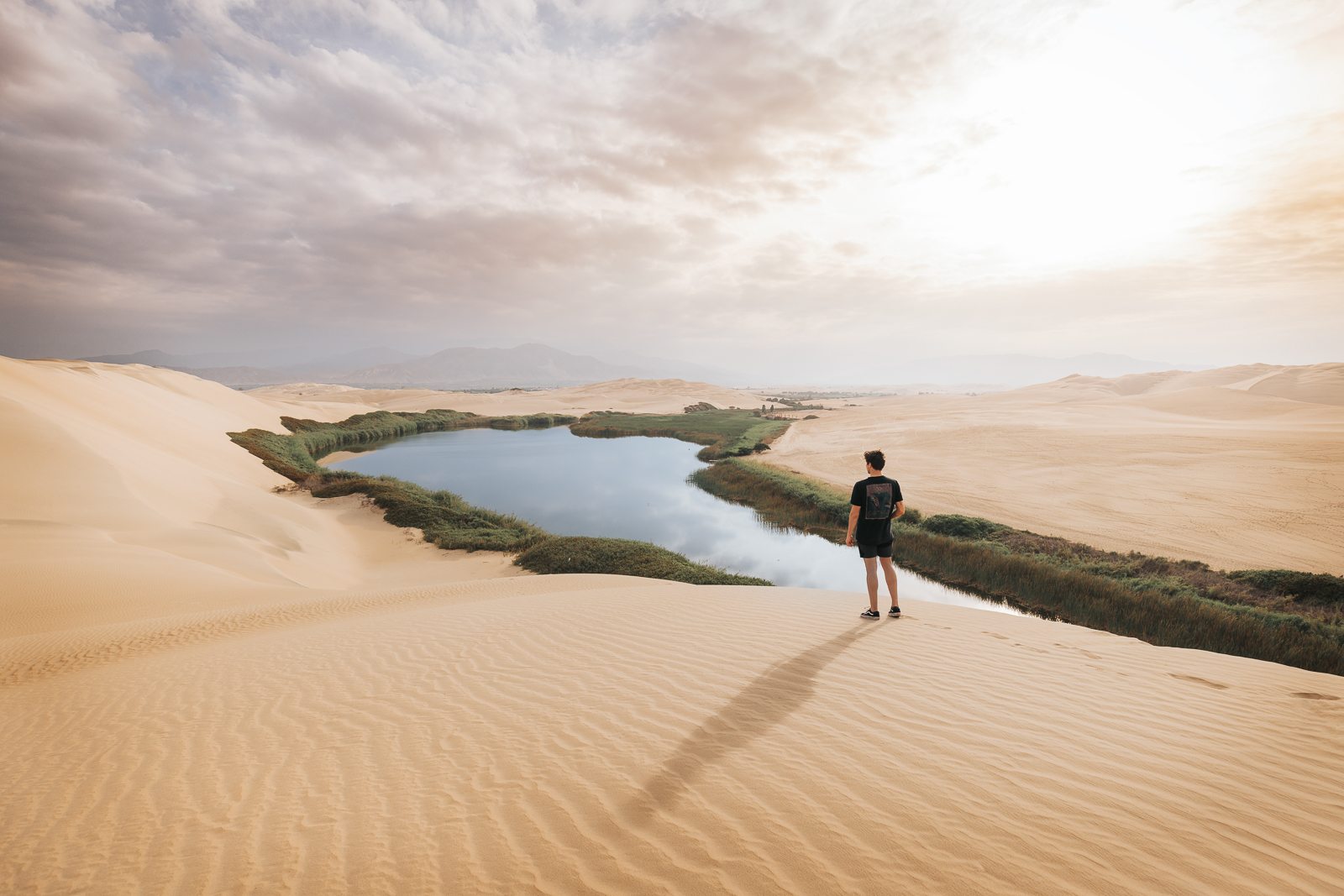 4.2 How to solve language barriers?
Ideally, you should speak Spanish. At the very least, it makes sense to learn the most important words before you start your trip, so that you can communicate at a minimum. But beware! Especially in the Andean region the language Quechua is widespread and completely different from Spanish. Here only a translation with hands and feet, a nice smile or a friendly gesture will help. If you are traveling with tour guides, they often speak the language, which can be an advantage. The resulting encounters and conversations are often of irreplaceable value.
Also, the Internet and various translators help to communicate via cell phone. So make sure that you have mobile data or a sim card with which you can use such sites in case of doubt.
4.3 What are some of the cultural considerations to keep in mind while photographing in Peru?
Peru lives from tourism and the treasures of nature. This should be respected. A correspondingly sensitive approach to it is therefore inevitable. So keep to the hiking trails or leave them only if it is allowed or if you have asked the locals nicely. Also, the regulations on site, especially at sacred ancient ruined cities should definitely be respected.
Also, especially at the beginning, hikes sometimes lead along houses or properties of locals. Also here you should always greet friendly and ask if you are allowed to walk along. Thus, we never had problems and were turned away. Should fees be due, which may well be questioned, I would always pay. First, these are often very small amounts and second, it helps the poor people on the ground immensely.
When taking direct portraits of people, one should always photograph with respect and ask in a friendly manner. It is also necessary to accept a refusal. We have really only rarely experienced this.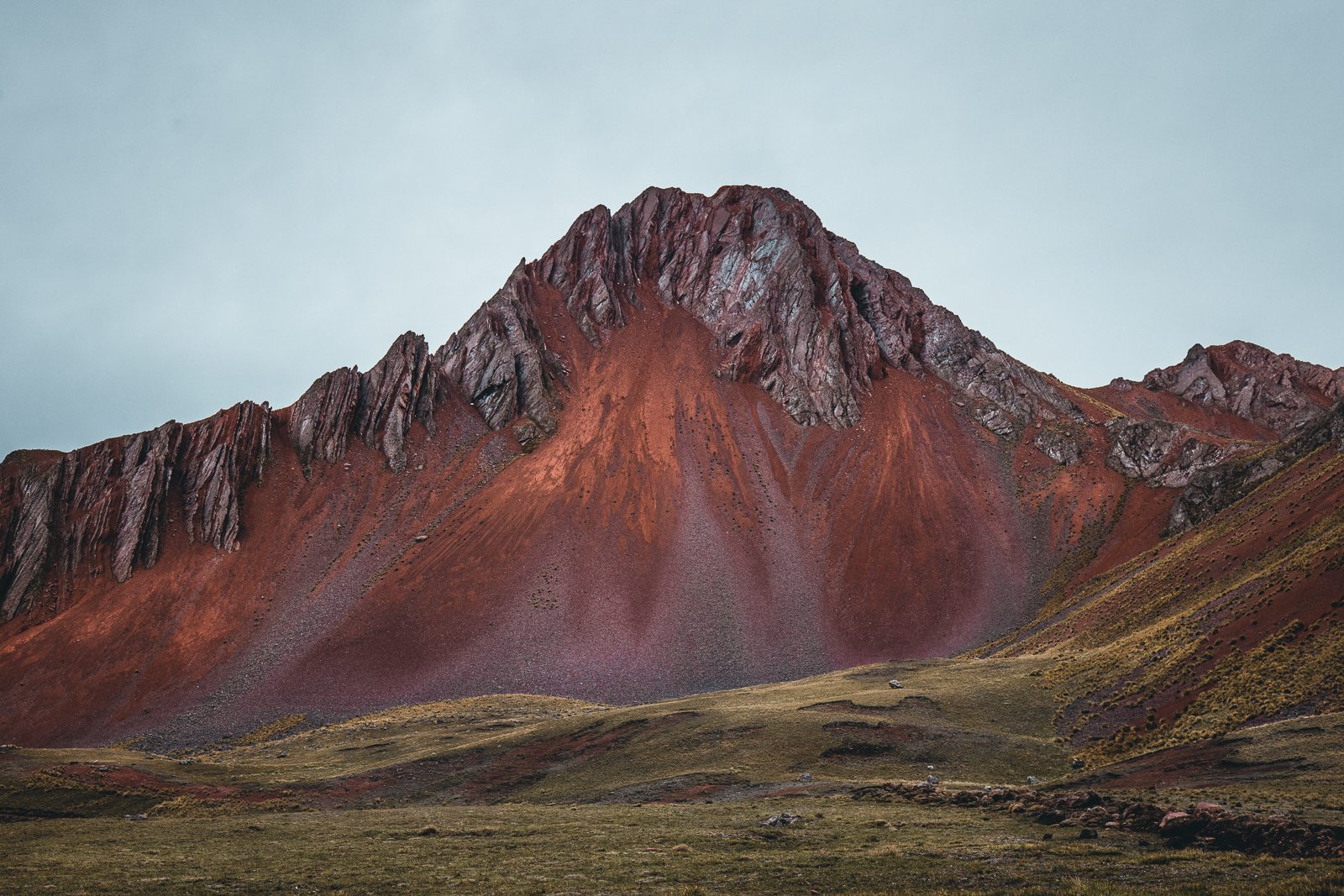 Red Mountain near Lake Langui Lago
5. Top 7 mistakes you should avoid when traveling to Peru
The altitudes in Peru are not to be underestimated at all. Acclimatization is inevitable and necessary to enjoy the trip.
Even if the temperatures in the mountains are cool or the sun is not often seen, you should never travel without sunscreen. This can lead to really painful sunburns and burns.
Disregarding hygiene standards. While the standards of hygiene are better than in some other South American countries, they are far from the ones we are familiar with. This should be taken into account when choosing food and drink. Likewise, the tap water is not drinkable. Definitely, you should carry anti-diarrhea medication with you at all times.
Cashless travel. Once you are out of the cities, cash is the only thing that counts. Also, one should always have some money separately in a pocket in case one falls victim to corruption like in a police check and has to pay a "bribe".
Alcohol is prohibited in public places and can be fined. He wants to be able to have a cool Helles in the mountains will probably get away unpunished.
Camping on elevated and free positions. If you hike and camp in the Andes, you should not set up camp on a ridge at 5000 meters, but rather further down. In addition to weather changes overnight, every meter of altitude difference counts against possible altitude sickness.
No flexibility. Whether it's rapidly changing weather patterns in the mountains or delays in your means of transportation, it's entirely possible that unpredictable changes will occur or something won't work out the way you want it to. If you prepare for this in advance and don't fill your itinerary too tightly, you'll come away from your vacation feeling better.