A pretty good and easy way to improve landscape photography is to start using camera filters. It's crucial to understand though, that some of their effects can be reproduced with Photoshop, while others can't. Here is why you should own them nevertheless.
Using filters in city- and landscape photography has become pretty popular these days and there are quite a lot of reasons you might not initially think about, why you should also get some if you don't use them yet. But let's first talk about the different types of filters that are important to know and how they can help you to improve your outcome in various scenarios.
Different types of filters
Filters are made of glass or plastic and can be attached to your camera lens, to add various effects to your photos. While some of them were nearly fully replaced by software like Adobe Photoshop, for example, to achieve different color effects, there are still 2 types that are very useful today.
Neutral-density filters (short: ND filters)
These types of filters are equal to sunglasses because they limit the amount of light, that passes them. They are available in different strengths from a very soft shade to a nearly black version. The less light is passing the filter, the longer you are able to expose your photo. It hardly needs mentioning, that they are mostly used during daytime and especially during sunrise or sunset. Using these filters during nighttime usually makes no sense at all. (if you know a technique or a reason why you should use them during the night, I would love to read about that in the comments below)
Polarizers (or pol filters)
While ND filters filter the full spectrum of light equally, polarizers only filter light waves of specific polarization. In photography, they can be used to remove or reduce reflections from surfaces like glass or water.
5 reasons why filters are so useful
After I started using filters, it was at first like doing a completely different type of photography. I was using them for nearly every photo, because I really liked the effects, that they added to my images. It's like everything that's new to you and after a while, you understand when it's improving your photo and when it's gimmickry.
#1 Effects, that can't be reproduced in Photoshop
I guess that's the most obvious reason to use filters and yet there are a lot of photographers, that don't buy filters because they think, that they can achieve the same results in post-processing. While this may be true for some of the effects, there are a few that either can't be reproduced or would need huge efforts to get the same realistic results.
Silky water is one of the benefits you can use as a stylistic method within your photos. Especially the reflection of the water is really hard to reconstruct afterward and if a waterfall contains a lot of rock formations in between the water, it gets even more difficult to achieve the same quality as you would get by simply using a neutral-density filter.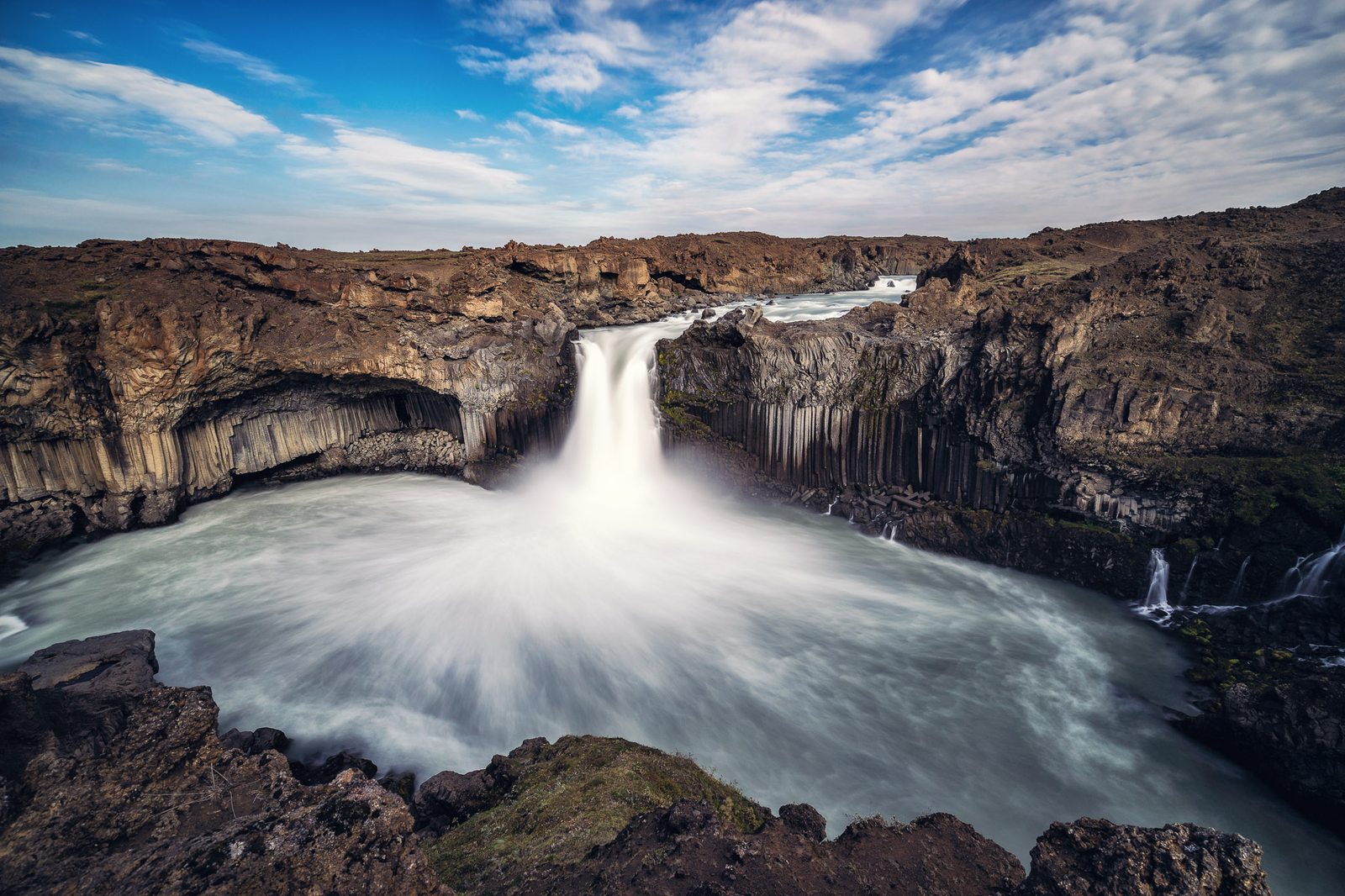 By using a neutral-density filter at this amazing waterfall in Iceland called Aldeyjarfoss, I was able to do a 10 second exposure during the day, which adds this nice contrast between the sharp edges of the rock formations and the soft floating water to the image.
Adding structure beyond floating water is another great reason to use a polarizer. By removing the reflection from the water, you will be able to photograph the riverbed and therefore get some more details within your photo.
Here are 2 nearly unprocessed images, that show the difference between the usage of a polarizer and taking the exact same shot without one.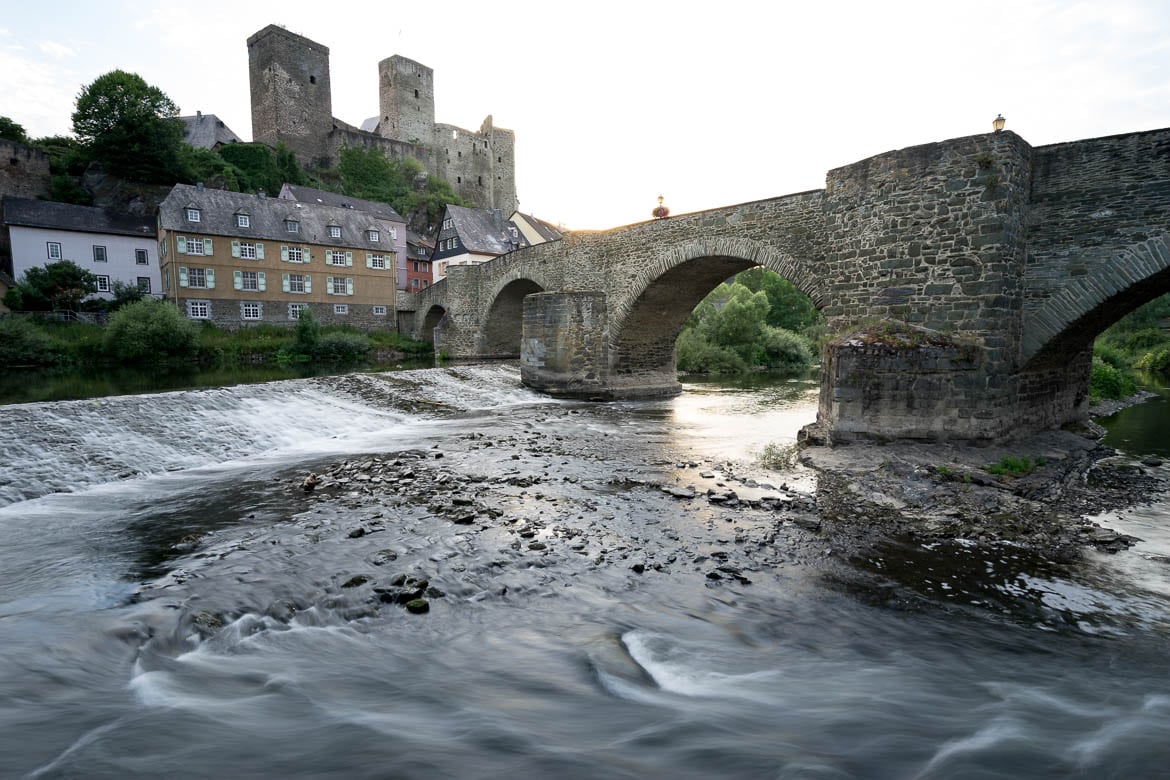 Without polarizer: The water in the front is too bright due to the reflection of the sky and therefore gets too much attention.
With polarizer: Instead of having a bright foreground, we now see nice little waves, that lead the eye of the viewer from the bright castle in the background through the foreground towards the bridge on the right side. The stones in the riverbed are some nice additional details, that are visible now.
Shooting through a glass front (on observation decks etc.) is also worth trying a polarizer, to remove the reflections within your photo. Using a dark blanket around your lens is also a good alternative for this situation, but that's maybe not always possible.
#2 Saves time in post processing
That's something especially beginners underestimate quite a lot. By using graduated ND filters you might be able to take a lot of your photos with one single image. Darkening the bright sky with such filters allows you to get the whole scene within one single exposure, which saves you a lot of time of exposure blending in Photoshop. I don't mind that and I am a perfectionist when it comes to blending photos, so I nearly never use graduated filters, but if you like to get everything within a single shot and if you are not a huge fan of retouching your photos in Photoshop, then these filters are a great choice for you.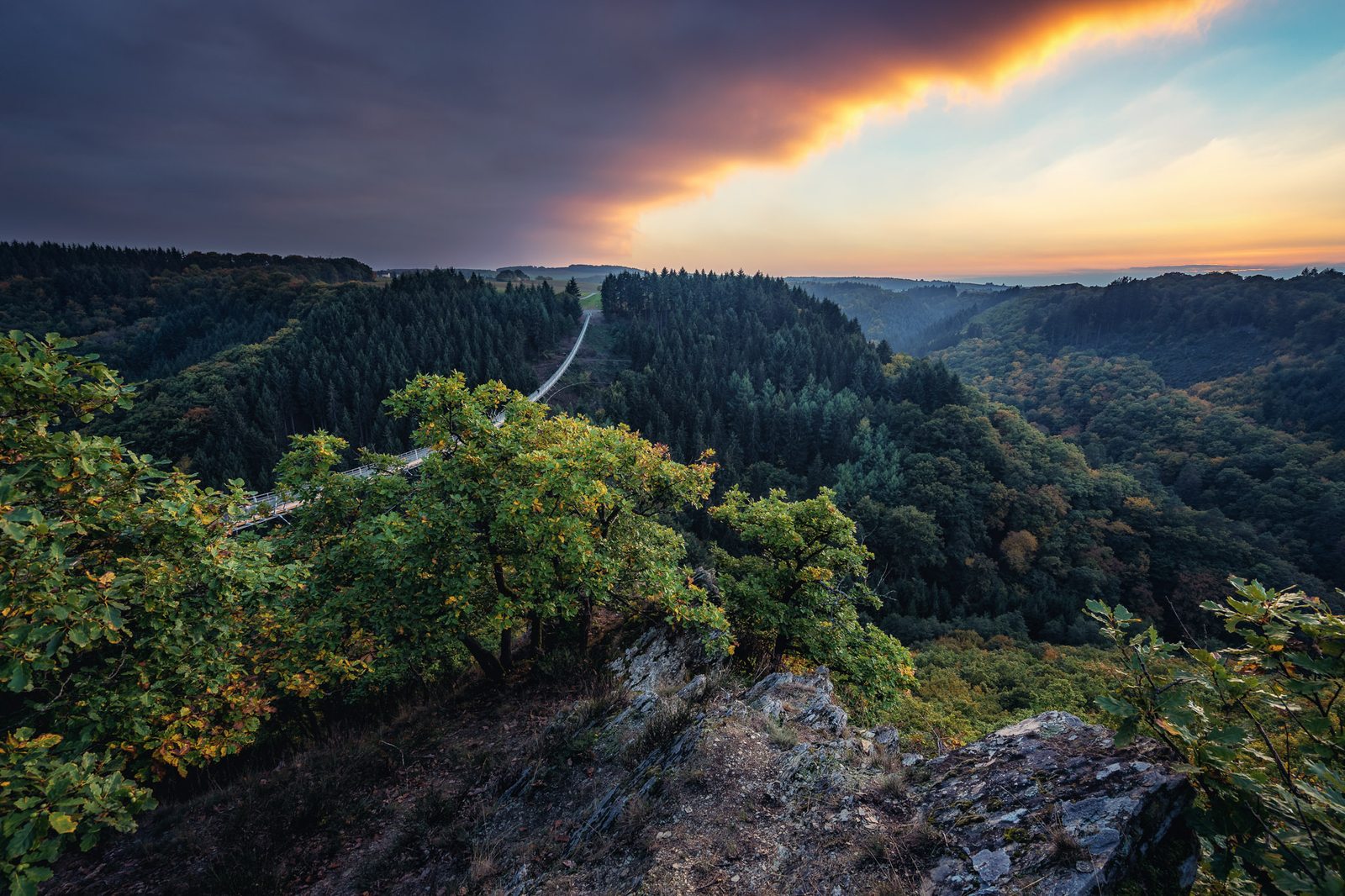 This is a perfect example, where a graduated neutral-density filter could have saved me a lot of time in post-processing. The horizon is pretty straight at this spot in Geierlay, so using a graduated filter here is pretty easy and offers the opportunity, to get this result without having to blend multiple exposures.
Something I really like though, is using ND filters to remove people from my scenes. I describe several different methods in my post about 5 easy tricks on how to remove people from photos.
#3 Decelerating photography
This is definitely a trend right now and something probably every advanced photographer will appreciate sooner or later. Beginning with photography often makes you want to shoot every object, that might look good in front of your camera. This is a great way to start photography because you get to know your camera and learn different techniques to improve. Especially if photography is a hobby for you and therefore is meant as a pause from your actual job, you will definitely benefit from stopping running from one spot to another and taking as many photos as possible. Filters are something, that will naturally ensure, that you slow down in your photography process because every long exposure needs more time and you need more time in general to set up your camera. By doing longer exposures, you will also have more time in between to enjoy the scene and you will probably take more care of your composition because the amount of shots that are possible during sunset is limited to this small period of time.
#4 Professional look
This sounds so wrong in many ways because filters are definitely not the missing piece of equipment, that's distinguishing hobby landscape photographers from professionals. However, in my opinion, it's a very easy way to add something to your images, that's not possible by using a simple filter in Instagram. While these silky water effects may not be appealing to everyone, it's nevertheless a great way to set a focus within your photos by removing details from the sky or rivers, that would otherwise grab a lot of attention through their structure. It's also a great way to create a nice contrast between the sharp rocks of a waterfall and the soft water, that's forcing one's way.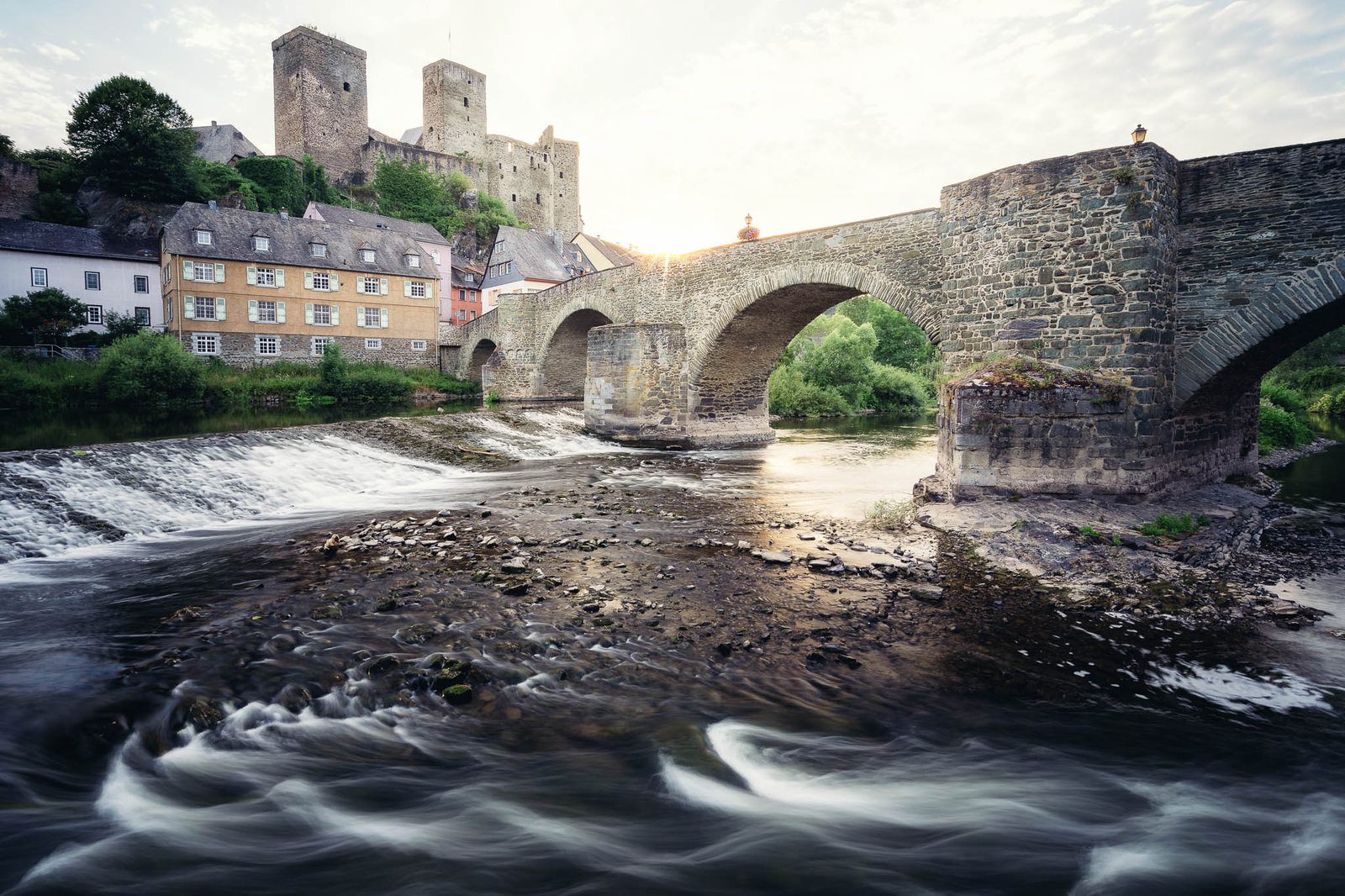 The simple usage of a polarizer in combination with an ND filter and a decent amount of post-processing changes the appearance of this image in a subtle way. The ND filter was additionally used to get a longer exposure for the stream. This photo was taken at Runkel Castle in Germany.
#5 Adding new possibilities
For me, every part of the equipment I use and every new technique I learn is kind of a tool in a toolbox, that I am able to use afterward in the fields. Having these opportunities will open up more creative ways to combine different techniques for various places, making your shot more and more unique with your special style and preferences. Limiting yourself as a beginner is crucial in my opinion, as explained in detail in my article about How I drastically improved my photography with just 2 little decisions. The more you advance though, the less you might want to limit yourself, because everything will happen at the expense of opportunity costs.
Now it's up to you and I would love to hear if you are already using filters or what holds you back.
Previous article
Next article